Founded over 50 years ago, Deja Vu® has modest Midwestern roots in the adult theater business.  What started as an idea to revive a dying drive-in movie theater evolved into a massive chain of hundreds of adult theaters and bookstores internationally.  50 years later, the group has evolved into the largest adult nightclub & adult retail group in the world.
With hundreds of upscale locations worldwide, Deja Vu® is the undisputed leader in erotic entertainment.  Our renowned brands include Deja Vu Showgirls®, Little Darlings®, Dream Girls®, Larry Flynt's Hustler Club®, and many others.  Our retail division consists of over 100 adult retail stores and an online superstore, Love Boutique Online®.
Thank you for making Deja Vu® the worldwide leader in erotic entertainment!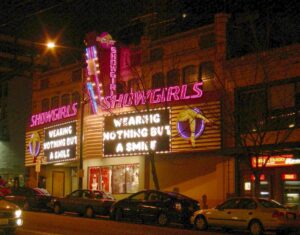 All Businesses Are Independently Owned & Operated